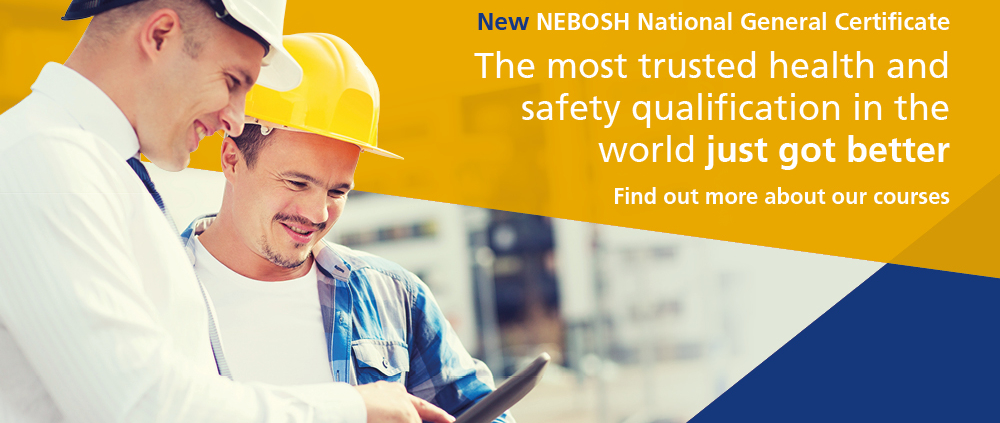 The New NEBOSH NG & IG Qualifications
The New National General/International General (NG/IG) qualifications are the upgraded version of the old NEBOSH NGC/IGC qualifications.
With this update NEBOSH have streamlined the qualification, focusing on key knowledge that a manager with health and safety responsibilities is expected to know, making it more relevant to an actual job role and a more realistic stepping stone to a more senior post and qualification. NEBOSH have identified that the old qualification included overly complicated technical content, which was above the level required and not necessarily in line with current business needs.
The English language used within the new qualification has also been reviewed and the use of over-complicated terminology has been significantly reduced where possible.
Key Differences between NG/IG and NGC/IGC
The key differences between the new qualification and the old qualification:
NG/IG
NGC/IGC
Accreditation Body
NEBOSH
NEBOSH
Course Fees
£450 + VAT
£450 + VAT
Exam Registration Fees

£116

Written Assessment £46

Practical Assessment £70

£115

Written Assessment £46 Per Paper

Practical Assessment £23

Written Assessments
1 Paper x 2 Hours
2 Papers x 2 Hours Each
Total Hours of Study
96 Hours
139 Hours
Course Units
2
3
Course Elements
11
11
Professional IOSH Memberships

Associate – AIOSH

Technician- TechIOSH

Associate – AIOSH

Technician- TechIOSH

Entry Requirements

None

Level 2 qualification is recommended

None

Level 2 qualification is recommended

Qualification Framework
Scottish (SQA)
Scottish (SQA)
SQA Level
6
6
NQA Level Equivalent (UK)
3
3
Hours of Taught Study
68
80
Hours of self-study
22
53
Hours of Assessment
6
6
Each written exam assessment format

1 Long and

19 Short Answer Questions

1 Long and

19 Short Answer Questions

Written Assessment Grading
45% +
45% +
Practical Assessment
1
1
Practical Assessment Format

Site Risk Assessment

Prioritisation

Action Planning

Site Risk Assessment

Report to management

Practical Assessment Grading
Pass/Fail
60% +
Minimum standard of English
IELTS Level 6+
IELTS Level 6+
Further Questions
We are really excited about the new syllabus as it enables our learners to apply their real-world knowledge learnt on the job towards their qualification. It gives new students the ability to gain confidence as they are already aware how to apply this knowledge.In the new syllabus, there are two units.
IG/NG1 – Management of health and safety.
IG/NG2 – Risk Assessment – Practical unit.
Both of these units will be marked by NEBOSH and the first exam will be conducted on November 2019.
Some of the highlights of the new qualifications are:
Better for learners and employers.
produces credibility, capability, confidence and career progression.
Deep and thorough test of knowledge and application.
Learner friendly – in language that is easier to understand.
Addresses emerging topics in the workplace.
Based on what businesses needed their managers to know and do to better reflect the needs to today's workplaces.
Streamlined syllabus representative of the role of the health and safety professional with greater emphasis on risk management.
Question paper assesses what they need to know and the practical risk assessment assesses what they can do.
Instantly adds value to employers and colleagues.
Don't worry if you are on the old syllabus, you can seamlessly switch versions. You have your full course access time, up to 12 months to complete the exams, or alternatively, opt to sit examinations for the new syllabus.
Please Note: You cannot transfer credits earned in the old syllabus to the new syllabus. If you want to study the new syllabus you will have to start again and attempt both units.
Purchase the NEBOSH IG Certificate or NEBOSH NG Certificate today.
Further Information
If you have any further questions or queries you can use the contact form below to contact a SHEilds Course Advisor who would be happy to answer any of your questions.
https://www.sheilds.org/wp-content/uploads/2019/09/NEBOSH-NGC-no-logo-1.jpg
500
1000
SHEilds Health and Safety
https://www.sheilds.org/wp-content/uploads/2015/07/sheilds_logo.png
SHEilds Health and Safety
2019-09-16 14:28:18
2021-02-10 16:26:58
The New NEBOSH NG & IG Qualifications