Cheating on NEBOSH Practical Exams
This can consist of copying information from the internet, a publication or from another student.  It is not permitted and can have consequences for any students who are found to be guilty of cheating.  NEBOSH refer to this as "Malpractice".
It's tempting to cheat, but don't!
It may be tempting to confer with a classmate or "borrow" information from other sources.  Students who collaborate on their assignments are both classed as cheating whether the student is the original author or the person who has copied.  Information from 3rd party publications (such as books or the internet) can be used providing the text used is referenced correctly.  This does not mean that whole sections can be copied and inserted into a report.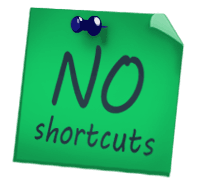 It is concerning that there has been a marked increase in the number of practical assignments that have been sent to NEBOSH with suspected malpractice.
In 2015 there were 57 reported cases, of which 49 results were voided and 44 of those were banned from resitting with NEBOSH (from 1 year up to a lifetime ban).  So far in 2016 a total of 25 students have been reported for malpractice.  This indicates a definite upward trend in figures.
Health and safety practitioners have a big responsibility in demonstrating the most appropriate way to undertake tasks.  A practitioner that promotes "cheating the system" will give out the message that rules can be broken.  In turn employees, Managers and contractors who look to the practitioner for guidance and advice may follow suit unaware that breaking some rules can lead to fatality, injury, costly prosecution or civil action and a damaged reputation.  As Employers are responsible for the actions of their staff, Managers or Directors may pay the price for a health and safety practitioner in their employ who has flouted rules or regulations where they have been looked to for valuable guidance on compliance and best practice.
NEBOSH provide worldwide recognised qualifications to which organisations attribute a great deal of respect.  The exams are not easy and the standard required to pass is high.  If students were permitted to pass the exams whilst copying, the qualifications would come into disrepute and respect for them would dwindle.  Therefore NEBOSH take a very hard stance on any student found to be cheating.
Ultimately:
Don't copy off your fellow students
Don't allow fellow students to copy from you
Don't copy large sections text from the internet
Don't copy sections from books or other publications
If you do use an opinion or comment from a third party, reference it appropriately
If you want to practice Health and Safety Management, there is no short cut!  It is hard work, but it is worth it when you know you have achieved it all from your own efforts.
https://www.sheilds.org/wp-content/uploads/2016/04/Cheating-nebosh-practical-exam-D-min.jpg
707
1220
Victoria Hughes
https://www.sheilds.org/wp-content/uploads/2015/07/sheilds_logo.png
Victoria Hughes
2016-04-08 12:30:52
2021-02-11 09:08:00
Cheating NEBOSH or Cheating Yourself?