The 2015/2016 statistics
2016 was a big year that posed a lot of questions for Health and Safety in 2017 with a focus on the UK regulations after Brexit. The 2015/2016 statistics saw an increase of fatalities (144 compared to 2014/2015) along with days lost up by over 3 million!
In the UK, the east of England was the lowest in both RIDDOR (Reporting of Injuries, Diseases and Dangerous Occurrences Regulations) and fatality notices. Yet, the West Midlands had the highest RIDDOR notices. The East Midlands and South East had the highest fatality rates at 12% each against the rest of the country.
With a focus on the UK we can make a comparison to 2011/12. Since then, non-fatal injuries have seen a steady decline down from 111,299 to 72,202. This statistic alone is an incredible improvement.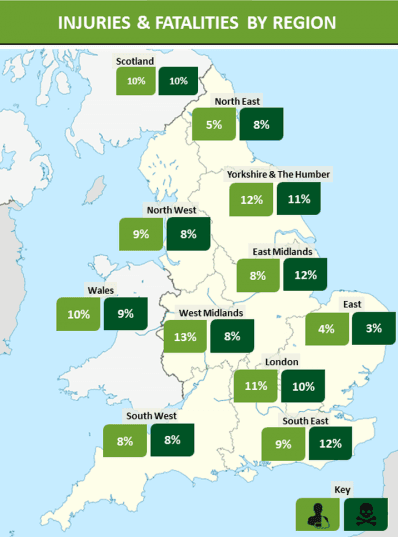 Image snapshot of "shponline" HSE Safety Statistics
What can we expect to see in 2017?
Moving on from the existing statistics the question begs; what can we expect to see in 2017? One of the great things about Health and Safety is that it's always developing. With new technologies such as robots and driverless cars that have had their fair share of bad press, technology is going to be a major focus from 2017 onwards.
Collaborative Robots
In manufacturing the term "cobot" is often used for collaborative robots. These are being used increasingly in car manufacturing but in 2015 there were two fatalities, with one in Germany and the other in India. As such, talks are now in place to add new measures to protect human workers.
As we are in the early stages of the technology there are many potential risks. Although accidents occur, Health and Safety regulations are there to ensure there are reasonable measures to prevent injuries and death. It is hopeful that these regulations are in place before an accident occurs.
Nanomaterials
This year will see talks about the safety of working with nanomaterials. Nanomaterials consist of nanoparticles and are used to improve qualities such as strength, absorbency and durability.
They are used in many industries and are even seen in technology to improve data storage.
The particles in question are 80,000 times smaller than a human hair and there are obvious concerns about inhalation, with inflammation, disease and death being thought to occur because of this. On the other end of the scale though nanoparticle drugs have been considered for tackling lung-cancer.
This year sees a Nanomaterials discussion take place, so if you're working with the materials it may be a consideration.

The nanomaterials Event is a one-day meeting between RSC Toxicology group and the UK NanoSafety Group. Take part: http://www.rsc.org/events/detail/25238/commercialisation-of-nanomaterials-process-issues-and-management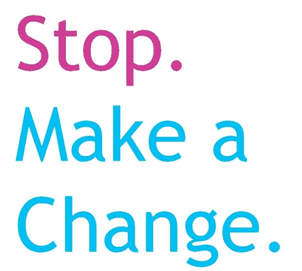 Stop. Make a change
Across the UK on the 18th April 2017 top contractors and their customers will stand down work on sites and in offices as part of the 'Stop. Make a Change' campaign. Discussions will take place between suppliers and employees about how to increase health, safety and well-being performance.
The 2017 priorities are:
Mental Health.
Respiratory Illness.
Fatigue
Plant Safety.
These kinds of efforts across the country are great to see. Although many may consider the loss of staff for a working day to be an unnecessary expense, the amount this could save by reducing injuries could have a very positive, long term impact on Health and Safety.
Additionally, raising awareness to mental health will aid both employers and employees into a better understanding of the surrounding issues and their treatment.
Brexit
Brexit raised many concerns among those in the Health and Safety industry. People know that a lot of EU laws are currently in place across Britain. Many wonder whether similar laws would be in place if it wasn't for the EU. In 2011, a report by Professor Löfstedt stated that "probably 90%" of EU laws that are currently in force across the UK would have existed even if the EU didn't.
As a contrasting example of these concerns; there is legal protection against discrimination on gender (part of the Equality Act) which was only introduced in the UK because of a ruling in 1996 by the European Court of Justice. It is thought that 2017 will be dominated by Brexit yet it is still unknown exactly what impact this will have on the UK.
Occupational Health
A new strategy by HSE will be strengthening the legal foundations on corporate social responsibility and wellbeing agendas. Annual statistics show that the health of the UK workforce is declining, putting stress on the UK.
Gig workers
There is a growing trend on "Gig workers" and concerns over the extremely limited legal rights they have. Services such as deliveroo and UBER pay workers as they work in a "self-employed" capacity. As they are not employees they have no right to certain Health and Safety surveillance. There are changes considered but these are not likely to arrive in 2017.
Driverless Vehicles
Driverless cars have been made available for wider testing but have already caused a few deaths. Whilst in its infancy, there are many concerns around the intelligence behind them.
The problem comes when there are difficult decisions for the system to make. If there are people crossing the road, yet you have barriers on both sides and are unable to break in time; how would the car react?
It also poses the questions on who is responsible in an accident. For this purpose some companies are stating that they are "assisted driving cars." Should a hazard occur, the vehicle will do what it has been programmed to do, but it is down to the user to intervene.
We may be a way off before we have complete automation in our vehicles but this kind of assistance could be useful in many environments. Many of us have seen the videos where a forklift drives into some shelving and takes most of the warehouse down; using this as an example, collision intervention installed on warehouse vehicles could prevent an accident of this type.
Are you doing your part?
Are you doing your part for Health and Safety in 2017? To test your knowledge, we've put together a short quiz. We understand that not everybody is a Health and Safety expert, but in regards to safe working the general population should know most of the answers to the following quiz.
If you are a business, you can improve the safety of your staff. An IOSH Working Safely course could reduce accidents, thus reducing absence from work, fines and fatalities. Each workplace is a part of the above statistics, are you doing your part to improve them?
Take the quiz below and see how many questions you answer correctly.
Don't forget to share your Quiz Results on social media – use the icons on the summary page.
(Can't see the quiz, visit here: www.sheilds.org/health-and-safety-in-2017-statistics/)
Let us know in the comments below and challenge your colleagues.
Stephen Conlan
References:
https://www.healthandsafetyatwork.com/health-safety/2017-what-lies-ahead
http://www.shponline.co.uk/infographic-2016-hse-health-and-safety-statistics/
https://www.iosh.co.uk/News/Nanomaterials-risks-discussed-at-IOSH-branch-meeting.aspx
http://www.stopmakeachange.co.uk/news
https://www.healthandsafetyatwork.com/editors-blog/brexit-risks-health-and-safety
https://www.sheilds.org/wp-content/uploads/2017/03/Healthandsafety2017blog1A-min.jpg
707
1220
Stephen Conlan
https://www.sheilds.org/wp-content/uploads/2015/07/sheilds_logo.png
Stephen Conlan
2017-03-27 10:23:39
2021-02-10 16:53:28
Health and Safety in 2017